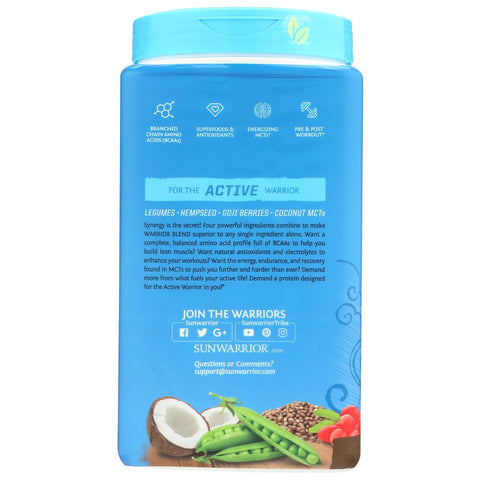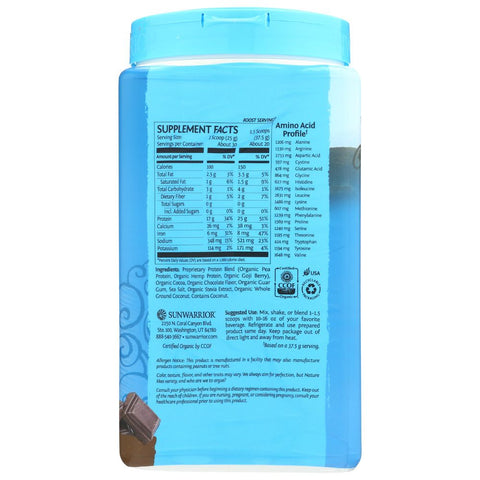 Sunwarrior Warrior Protein Warrior Blend Chocolate - 1.65 lb.
● Low Fat
● Low Carb
● No Added Sugar
● Oil Free
Sunwarrior Warrior Protein Warrior Blend Chocolate is a plant-based protein powder with 20g of protein per serving. This blend contains sprouted whole grain brown rice protein, peas, chia, hemp, and quinoa for a complete amino acid profile and an exceptional nutritional profile. This vegan and gluten-free protein powder has no artificial sweeteners or flavors, providing a delicious taste naturally.
Warrior Blend Plant-Based Protein provides a full amino acid profile with all organic fermented pea protein, goji berry protein, and hemp seed protein and MCTs from coconut. Warrior Blend is easy to digest so your body can quickly assimilate and use the protein. Warrior blend fuses the power of several rich protein sources into one smooth, great-tasting formula that is overwhelmingly superior to the individual components alone. Medium-chain triglycerides from coconut work synergistically with the other ingredients to create a unique vegan protein exceptionally rich in amino acids and BCAAs.
Discover More Vegan Goodies