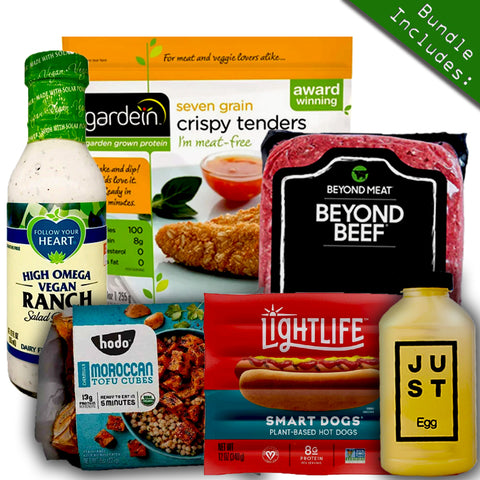 "LawBreaker" Vegan Starter Kit - 17 Item Ct.
$119.99
$143.39
you save $23.40
SAVE OVER $23.00 when you buy our carefully curated "LawBreaker" Vegan Starter Kit.
This bundle is perfect for anyone curious or starting their Vegan journey. The bundle includes 17 items of common foods that are 100% Vegan friendly as well as some introductory Vegan staples such as tofu, nutritional yeast, jackfruit and lentils. These vegan starter meal items are a great starters guide in regards to eating animal free foods. The LawBreaker Vegan Starter Kit includes:
Kit includes the mentioned items above. In the even that an inventory shortage does not allow us to include one of the exact items listed, a similar substitute will be sent. 
A good variety of items!
I was super excited to get this as I felt it was a great amount of food items for the price I paid. Some of these products I've tried before, and some I haven't. I tried the product, Neat, and I wasn't aware it was a powder. It was a bit hard to work with as a result, but it tasted just fine. I used the Just egg product in baking, and it works really well. My only disappointment was the Smart dogs, they were about to expire in a couple of days. So I immediately froze them for a longer shelf life. But other then that, this kit is great! Thank you!
Discover More Vegan Goodies