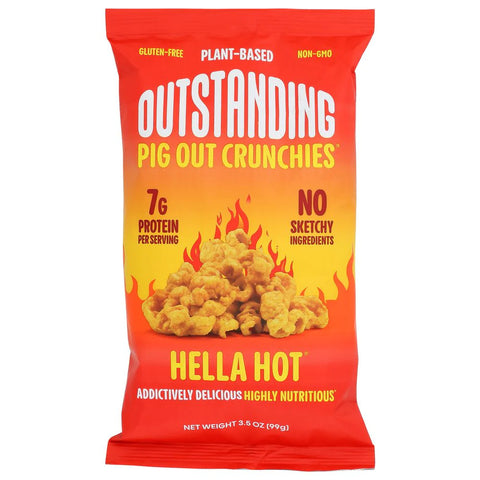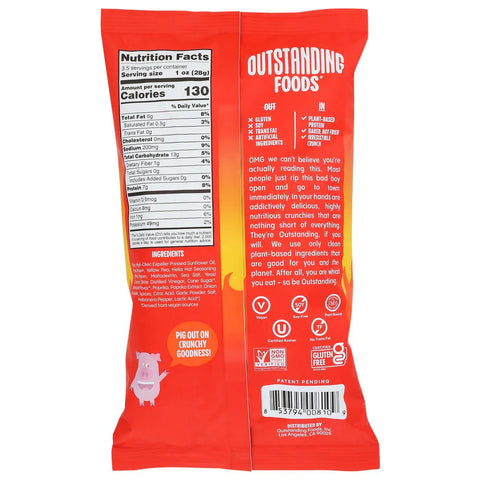 Pig Out Hella Hot Pigless Pork Rinds 3.5 - oz.
Other Flavors
● Kosher
● Low Fat
● Low Carb
● No Added Sugar
● Low Sodium
Outstanding Foods' Pigout Crunchies Hella Hot are delicious vegan pork ring snacks. Made with plant-based protein, these snacks are full of flavor and perfect for on-the-go snacking. With a substantial 3.5oz serving size, they're sure to keep you full.
Spice things up with our Addictively Delicious™ Hella Hot® flavor, packed with 7g of plant-protein per serving, baked till light and crispy, and seasoned carefully to create an authentic pork taste. PigOut® Pigless® Pork Rinds deliver all the flavor and texture of "traditional" pork rinds but are entirely plant-based and free of gluten, GMOs, soy, and trans fats!
Pig Out Original Pigless Pork Rinds 3.5 - oz.
Taste so good!
They taste like real pork rinds! Omg I haven't had those thangs in years! These are pretty good!
Great
Is a great product with a good flavor
Discover More Vegan Goodies